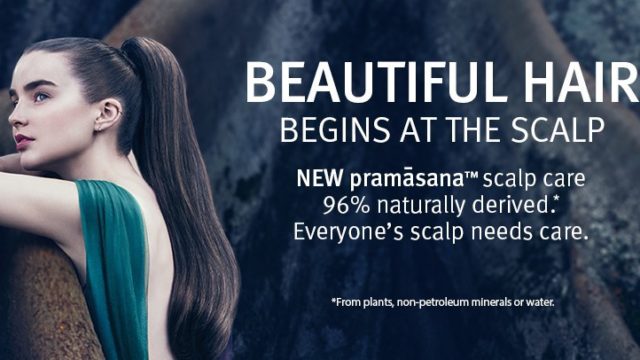 Pramasana – Treat Your Scalp Like Skin
NEW! Pramasana Scalp Care
Treat your scalp like skin – because it is. Exfoliate, cleanse and balance with Aveda's new Pramasana! Healthy scalp = Healthy hair
 This new system includes 3 scalp targeting products and is designed to reduce buildup and increase microcirculation of the scalp.
Exfoliate, Cleanse, Balance & Protect
Begin by gently exfoliating the scalp with the Scalp Exfoliating Brush! With it's looped bristles, the Exfoliating Brush is kind to your scalp while reducing build up without leaving your hair feeling tangled.
After thoroughly exfoliating, follow up with the Purifying Scalp Cleanser. Seeing as how this cleanser is for the scalp and shampoo is traditionally for the hair, you will still want to pair another one of your favorite Aveda products with this line. This cleanser is designed to instantly balance sebum levels using a seaweed extract, and leaves your scalp feeling fresh & invigorated with a wintergreen derived salicylic acid.
Finally, you'll finish your new scalp care routine off by applying the Protective Scalp Concentrate! In order to maintain balanced sebum levels & a healthy cell turnover rate, you need to protect your scalp from environmental aggressors. For best results, apply to damp hair & part in 5 or more sections. Gently massage the product into the scalp after applying with the provider dropper and leave in, no need to rinse!
"I used the new Pramasana line for the first time this week and my scalp has never felt more clean! The scalp cleanser was super easy to use because the nozzle deposited the product directly onto my scalp, and left my scalp feeling fresh and balanced. The scalp concentrate went on just as effortlessly. It felt lightweight and  I was able to give my hair a quick style and go!" – Kelsie, Puyallup WA
Are you ready to awaken your scalp?